The Inground Pool Planning Process
Planning an inground swimming pool as part of your dream backyard is a fun and exciting journey. Latham is here to guide you through the pool-planning process and help you explore pool shape options, compare different design ideas and create a budget in order to build your dream pool. Use these pool planning resources to research, imagine and save your ideas all in one place as you layout your dream backyard.
Finding The Right Pool Shape
Choosing the best pool shape can be exciting and overwhelming at the same time. At Latham, we want you to have the resources and confidence to choose the one that's right for you. Whether you're just starting your pool budget or already have a design in mind, this guide can help you find the ideal shape for your budget, family, backyard, and lifestyle.
Pool Shapes: 1/3
Shapes to Fit Your Lifestyle
Rectangular pools tend to maximize swim space, making them the optimal shape for swimming laps. lf you're looking for a fun and natural-looking shape for relaxing, freeform is a great choice.
Pool Shapes: 2/3
Shapes to Fit Your Backyard
The classic and curved shape of the kidney pool helps It fit easily Into smaller spaces. Oval pools are unique In style, but require more space making them best suited for bigger backyards.
Pool Shapes: 3/3
Shapes for Any Design Aesthetic
Roman pools borrow styles from ancient Roman architecture. making them a classic addition to any backyard. L-shaped pools can help you seamlessly design your pool around immovable features to match your backyard aesthetic.
Pool-Planning Tools: Seeing is believing…
Latham's enhanced visualization and budget preparation tools help you build your dream pool and transform your backyard into the ultimate sanctuary.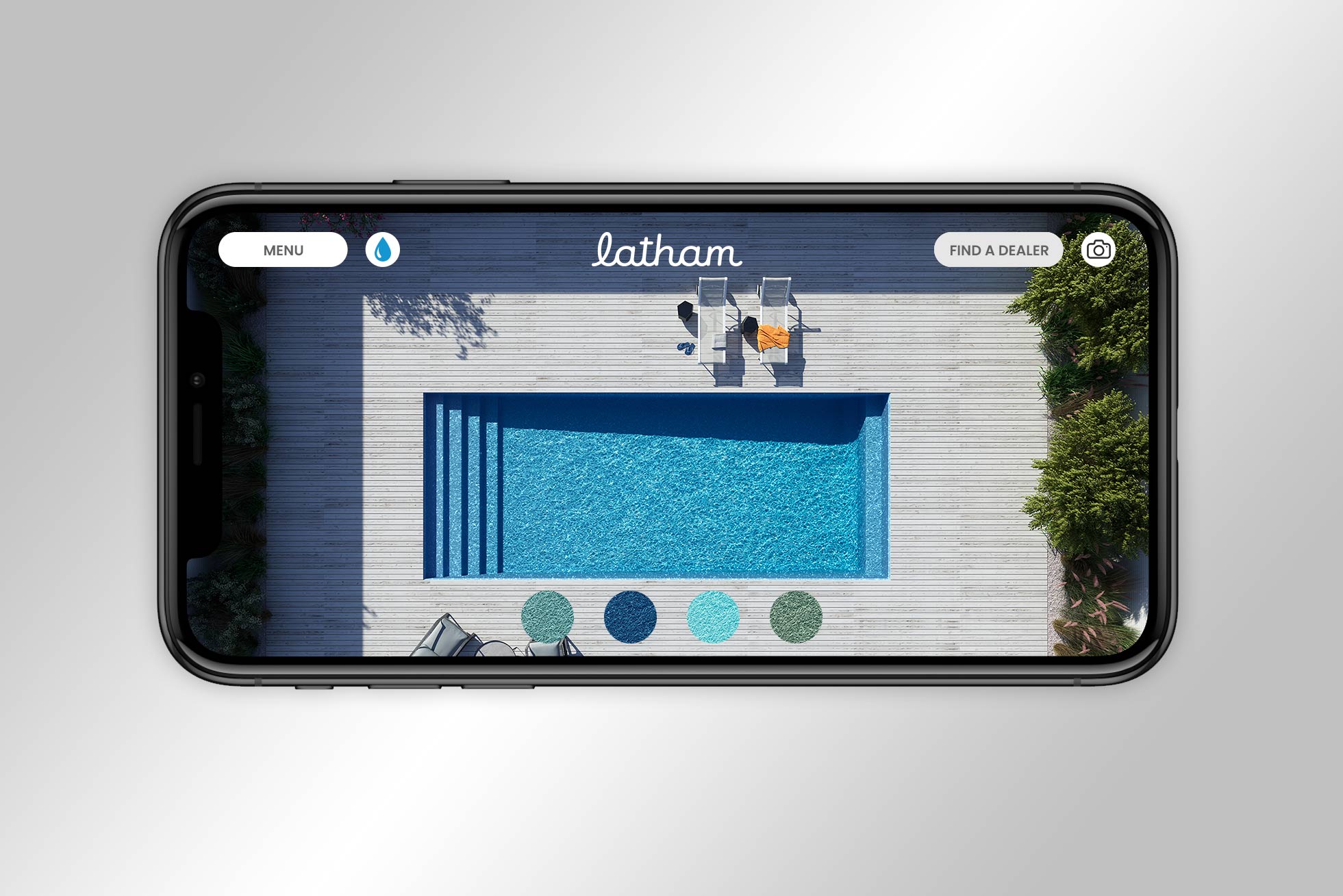 The Pool Visualizer App
Bring your dream backyard to life! You can see a Latham pool right in your own backyard with the Latham Pool Visualizer App, which features our most popular fiberglass pool models in a n assortment of colors.
Download the AR Pool Visualizer Application
The Latham Liner Visualizer
The Latham Liner Visualizer makes the liner selection process easier by making it possible for you to see a variety of patterns applied to a pool similar to your own. You can select three different styles of homes, choose from three popular swimming pool designs and apply the pattern of your choice to visualize the look and feel of your pool.
Give It A Try
My Latham Account
Get the tools you need to design and plan your ultimate backyard pool experience. Create a My Latham account to: Save and share your pool cost estimator results, plan your backyard wishlist, easily share your designs with dealers to get started
Create Your Account