Vinyl Liner Swimming Pools
What is a Vinyl Liner Pool
Latham vinyl liner pools are specially engineered to deliver maximum quality at minimum cost. Constructed using innovative, long-lasting materials, vinyl pools harness cutting-edge technology to withstand sunlight, water, and chemicals. That means less time cleaning your pool — and more time enjoying it.

Thanks to their lightweight design and materials, vinyl pools are quick to install. Depending on factors like the size and complexity of the design, total construction time may be as little as just a few days. Larger, more elaborate pool designs may take a bit longer to install.

Replacing a damaged or worn-out vinyl liner is even faster, in some cases requiring just hours to complete. That means you can leave for work in the morning and come home to a stunning new pool that evening. Whether your pool is inground or above-ground, vinyl makes it hassle-free to change up your look whenever you want to.

Lagoon
Mountain Lake
Vinyl Liner Pool Shapes
From classic rectangle pools to curved designs like Odessy and Mountain Lake, find or design the perfect pool shape and design for your backyard and your lifestyle.
Wall Types
Learn the difference between steel and polymer walls so you can choose the best pool walls to compliment your pool's aesthetic.
Steel Walls
Latham's factory-engineered steel wall panels are made of corrosion-resistant galvanized steel with unparalleled strength. Sturdy, heavy gauge galvanized steel braces around the entire pool provide solid support for pool walls.
Polymer Walls
Latham's polymer wall system is made from totally non-corrosive materials. This contributes to longer liner life due to reduced wall abrasion. Polymer pools are also better to suited to increasing popular salt systems, which can accelerate corrosion.
VINYL LINER SWIMMING POOLS
Vinyl Patterns
The customizations don't stop with pool shapes, browse our extensive offering of vinyl pool patterns to change the shade of the water and influence the overall look and feel of your pool.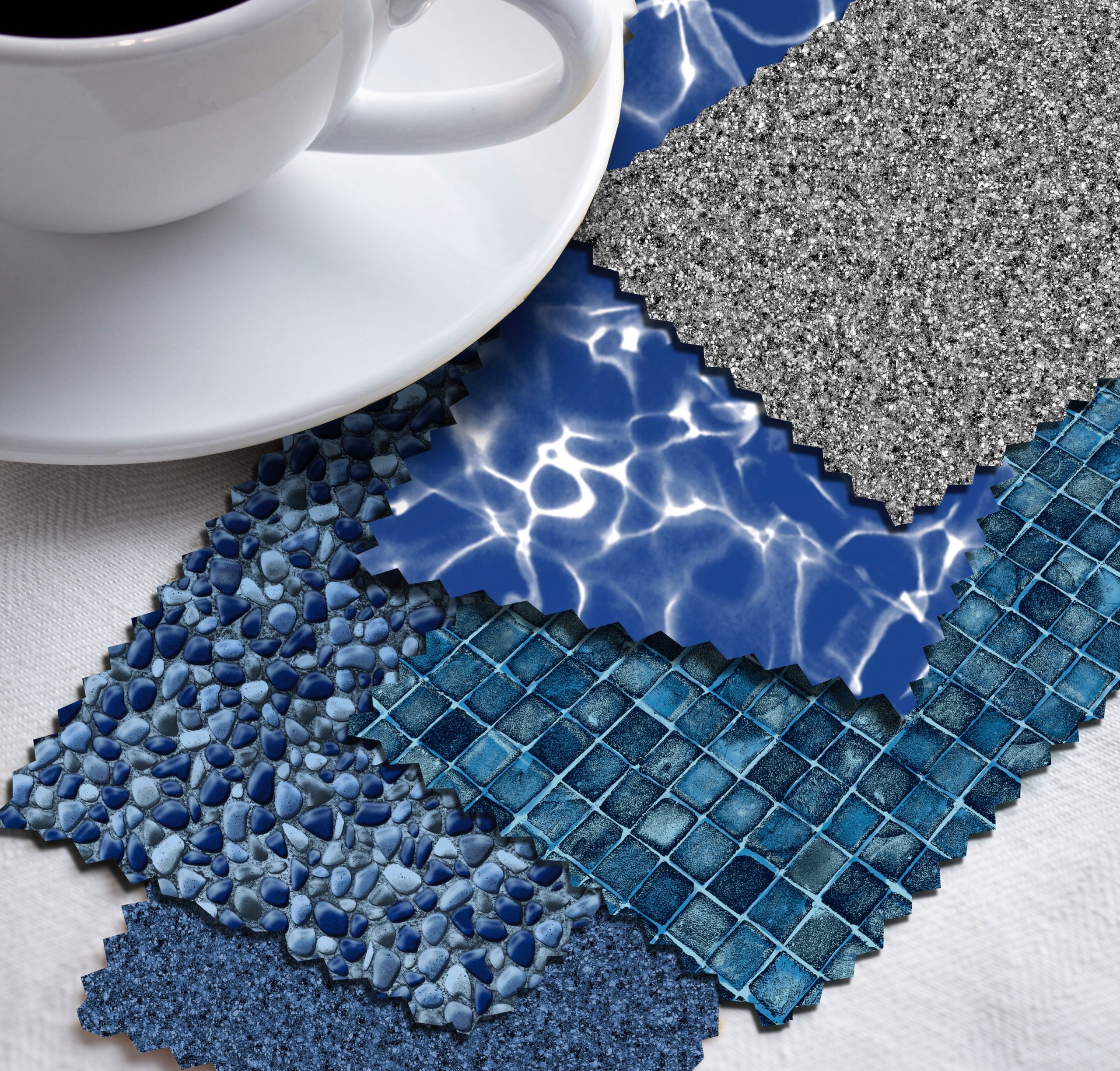 Visualize Your Pool
Try Our Liner Visualizer Tool
Featured Vinyl Liner Pool Option
Steps
Every inground swimming pool should feature a durable entry system. Entry steps make swimming safer while enhancing your inground pool's beauty and comfort.

Complete your pool with custom inground pool entry steps by Latham — a trusted industry leader with more than 60 years of experience.
Supported Brands
We can help you build and design the pool of your dreams and guide you through the process to select the ideal shape, size, and customizations. Our expert dealers will help you understand the installation process so you will understand every step of the pool-building journey.
VINYL LINER SWIMMING POOLS
Why Should I Consider a Vinyl Liner Pool?
Vinyl liner pools have many benefits, starting with easy customization. With almost unlimited shapes and designs, vinyl pools fit into yards of all sizes while offering flexible patterns and colors. With so many options to choose from, expressing your style is effortless. Vinyl pools are also easy to clean and maintain, perfect for busy lifestyles.

But it isn't just about beauty or convenience. Smooth to the touch and unmatched in strength and resilience, vinyl pool liners have even more to offer than first meets the eye. Combined with our industry-leading warranties, you get guaranteed quality and value.

Get the best out of your backyard with a vinyl pool by Latham Pool Products. Backed by 60 years in the business and thousands of satisfied customers, Latham has established itself as a leading name in the pool products industry.

Find the perfect pool for your yard, or design a whimsical dream pool from scratch. Either way, the experts at Latham are here to guide you