FEATURE SPOTLIGHT
Seeing is believing…
Latham's enhanced visualization tools help you bring your dream backyard to life!
The Latham Liner Visualizer makes it easy for you to pick the perfect pool shape, size and liner pattern. The newest version even gives you:
Night shots of patterns to showcase the liners lit up at night
A navigation bar that builds and tracks the pool with an illustrated output PDF that you can take to a dealer
Visuals of safety covers in four colors (coming soon)
Highlights of specific important product features
The Pool Visualizer App, available for iOS, lets you use augmented reality with your phone's camera to virtually build a fiberglass pool on any surface, including your own property. It features our most popular models and colors, and now gives you even more, such as:
Seven more pool shapes—rectangle, kidney and freeform shapes, as well as enhanced details and specs—for a total of 15 pools
Adds patent-pending G2 and G3 Crystite colors for a total of 12 color options
Allows you to use the app anywhere you happen to be (even indoors) thanks to a mini AR tool that can "build" the pool on any surface
The pool buying process
Let's get started!
A cool plunge into a Latham pool to wake up with the dawn. The steady cadence of laps relieving the stresses of the day. Cocktails with friends as the sun goes down. Or the laughter of your kids as they cannonball into the deep end. Whatever your vision is, Latham pools can transform your backyard into a welcoming extension of your home. Navigating the process from concept to completion, we're here to help you every step of the way.
The Latham Collection
Every home is different, and we have a pool for every home. Browse our collection by size
below, or visit our Pools section for a broader range of pool products.
Complete Your Pool
Latham is the only pool manufacturer giving you everything you need to make your new pool the centerpiece of your backyard.
All Latham pool components—from our wall panels to our liners, steps and safety covers—fit perfectly together
because they're built to work together.
About Us
Why a Latham pool?
Latham is the largest manufacturer of fabricated pools in the world, with over six decades of experience at the center of the backyard lifestyle. Every day, thousands of families in North America, Europe and Australia enjoy Latham pools and we want you to have the knowledge and confidence to select the one that is right for you. Latham is The Pool Company.
We're Here To Help!
Not sure where to get started? We've got you covered. Check out our amazing library of
resources, inspiration and tools to help you with your pool project.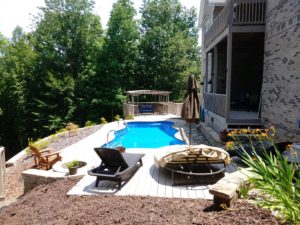 Blog
Great Pool Designs for Small Backyards
Backyards keep getting smaller and smaller. Heck, all kinds of things are getting smaller. Tiny houses are all the rage. We all carry tiny
Ask the Expert
"How do I choose a pool?"
When picking a pool ask yourself what you will generally use the pool for once it's completed. Will you be entertaining much? Do you or someone in your family enjoy swimming